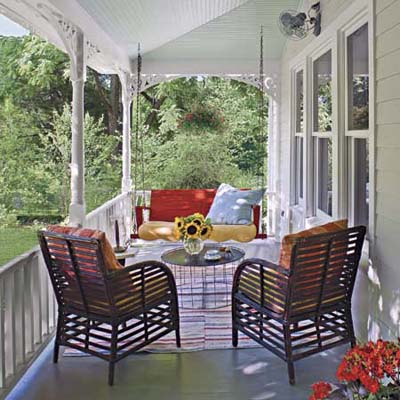 There is a reason one of my coworkers gave me the name, "The Great Waffler." My opinions and feelings tend to bounce around a bit. Or a lot. I admit it -- I waffle! It's because I am impatient for change and just want things to happen now! And when they don't, I waffle and start thinking, "Well, maybe working for another ad agency for more money would not be so bad." Or, "Maybe it wouldn't be so terrible to stay in DSM for a few more years."
Waffle, waffle, waffle. Well, not anymore, sister! The waffling ends here.
I
am
moving to the country! I
am
getting an awesome job for a cool non-profit or eco-friendly company. I
am
getting a to-die-for farmhouse with a big ol' wraparound porch and a huge kitchen that I can decorate with all my vintage'50s stuff that I'm going to buy at the flea market. I
am
going to be home every afternoon to wave to the bus driver and meet Mazy and Bo at the door with cookies and milk. I
am
going to wake up in the morning and think, "Damn, I love every aspect of my life!"
So thanks Dina -- you're the best. She's the pal who emailed me today and was like, "What the hell? Don't go to another agency. You've barely started this dream." Dina is starting one of Iowa's first green-certified daycares. How awesome is that? She's hoping to open in about a month. Don't worry, she used to be an East Coast nanny. She can handle this gig. And she'll get to be home with her girls.
Here's a tip for some of you who may be so inclined:
www.viewpoints.com
. You sign up and write reviews about products. One day they sent me an email and said, "Hey ModernDayMama, would you like to receive free products to test and review?" And I thought, "Yeah right, what's the catch?" But I said sure. Well, yesterday a brand spankin' new Conair hand-held steamer arrived in the mail for me! Whoohooo! I've never steamed anything in my life, but I'll give it a shot and let you know how it goes.
Also, I have earned about $175 since last December taking online surveys. Some pay me with amazon.com money, others pay cash. It's not significant. And it's a bit of a time commitment each night, but it adds up. However, I got burnt out and now only do
Opinion Outpost
surveys.
There, those are my tips for any stay-at-home Moms or soon-to-be daycare providers who might want some extra spending money!
I'll try to blog from Heidi's house in KC on Saturday. Can't wait to tell you all about our flea market adventure and finds!!!